Im Grant and I have a panel and paint shop in auckland and do a bit of custom work along with the normal panel and paint side of things.
http://www.gtrefinishers.co.nz
" onclick="window.open(this.href);return false;
For a few more updates i try to keep my blog going as I have time
http://gtrefinishers.wordpress.com/
" onclick="window.open(this.href);return false;
I drive a hyundai lantra wagon that is missing intyerior door handles, has no chack strap on drivers door and is generally run down, The misses has a 2002 stagea with custom paint wheels etc. I have been wanting my own car for a while and something for when customers ask what i drive i dont have to point at the hyundai.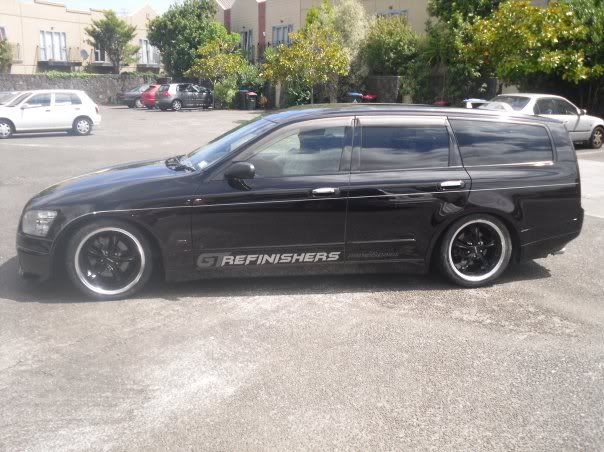 So about 4 months ago i was browsing on trademe and looking at utes, Found a old rusty 521 pickup that the owner wouldnt budge on price but i thought it was a pretty good deal for a old truck with reg on hold.
Misses said no i shouldnt get it cause it would never be finished and the next day i got busted pulling it off the tow truck as she pulled into the shop driveway.
The truck hadnt been started for For a year and a half since the people i bought it off had it dropped off, before that i am not sure how long it was not going for.
I pulled the plugs cleaned them up and put a drop of brake fluid on each, some fresh gas anda jump start and she fired up, not smoothly but it started which was a good sign but was not firing all 4.
Brakes were siezed pretty well and took a run up from the street to get it up the ramp to the shop but i was determined to drive it in and not push it.
It has had a L18 and 5speed put in at some stage and after a bit of a clean up of the motor it looks to have been a very well looked after motor or had a rebuild at some time as the head cleaned up like it had been in a bath and the block has been painted red with a good clean with prepsol.
We ditched the canopy in the skip and stripped down the spare parts that came with it for door glass and any other parts salvagable and rubbished the rotten parts.
Some pics before i continue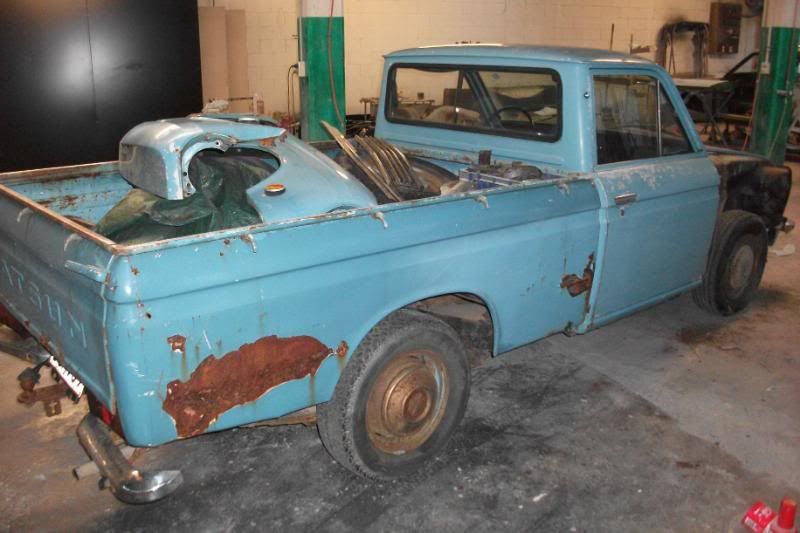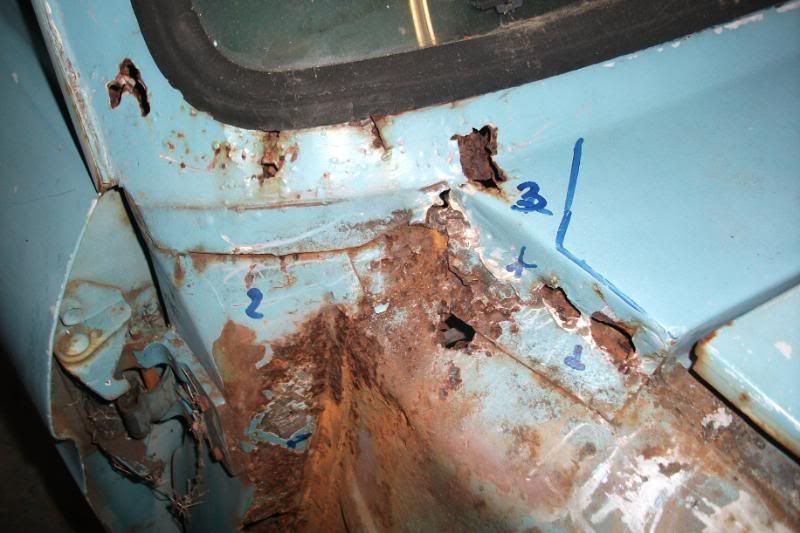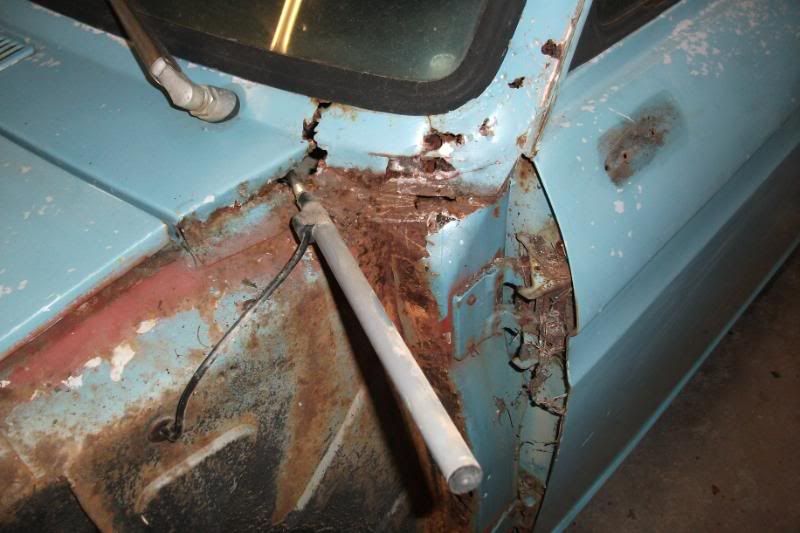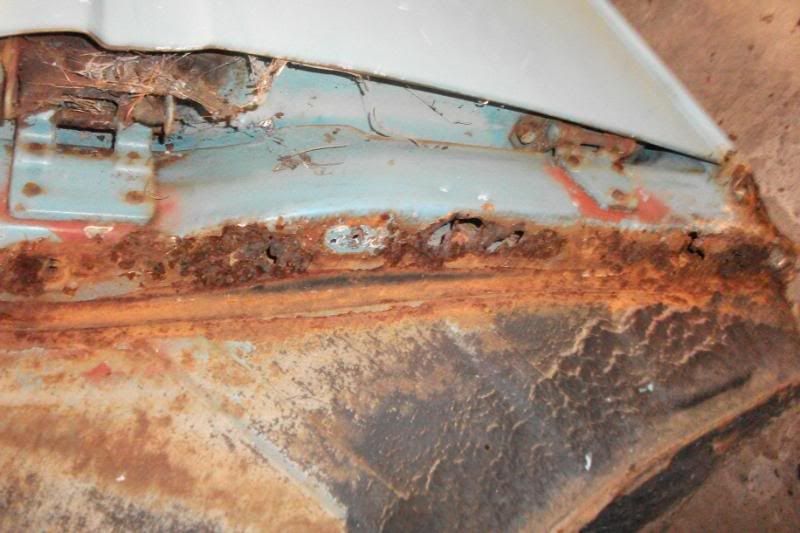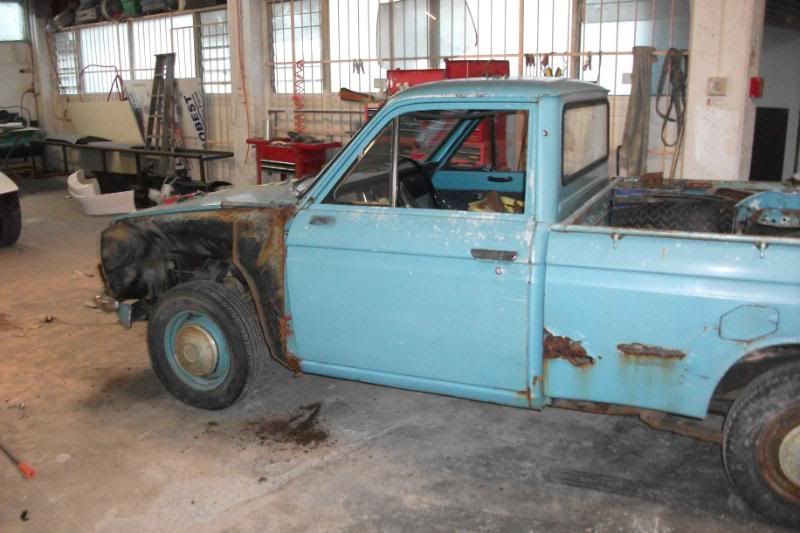 So as you can see i stripped some parts off and the cancer was worse than i first thought.
I knew i needed to put new sills on and a bit around the lower screen but did not expect a pillars and the inner screen to be gone.
I did not know alot about the trucks and was planning to run a flat deck but after some research found that wellsides were very hard to come by and decided to fix up my one. Nothing too flash but enough to get it usable.
Cut into it i did and made plenty of patches and welded it all up. Folded up some new sills and patched some dodgee 3 point beld holes in the b pillars that had some rusty sleeves holding the top belt in that snap with the turn of the ratchet.
There was only one floor section to do about a5 size and a couple of other tiny bits.
Cut the four corners of the tray out and left the arches so i dint have to remake them and welded in patches 40mm lower at the back and 60mm lower in front of the wheels to sit at the same height as the sills, I didnt run the folds the same shape as the sill but may do at a later stage, I just want it going for now.
Interestingly enough the bonnet had one dent and close to the same with the doors and guards (apart from lower guard rust) roof gutters were clean and rust free and roof had a good grind back to metal and treatment as there was surface rust under the old enamel.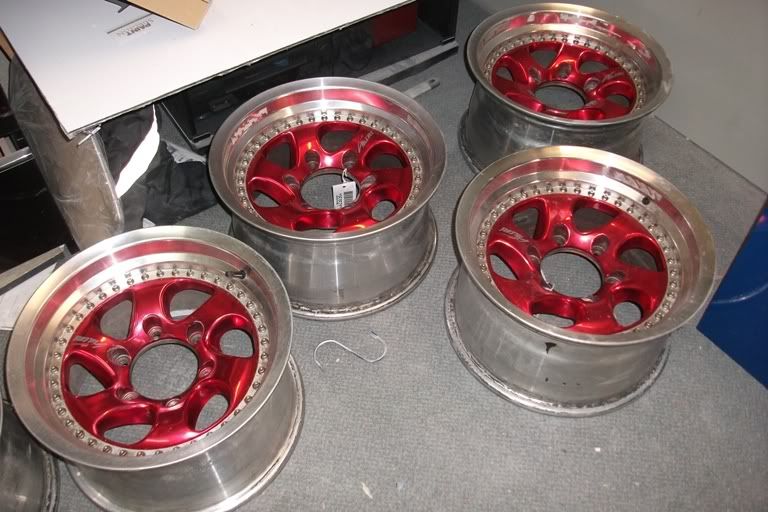 If i can find all my pics of the rust repairs i will put them up, Hard to do trying to access work comp from at home.
I had picked a Dark blue grey colour and sprayed the inside of the bonnet but changed my mind as a customer sorted me a set of eniki 4wd wheels i had seen at a wreckers in red and i decided they would suit cream better.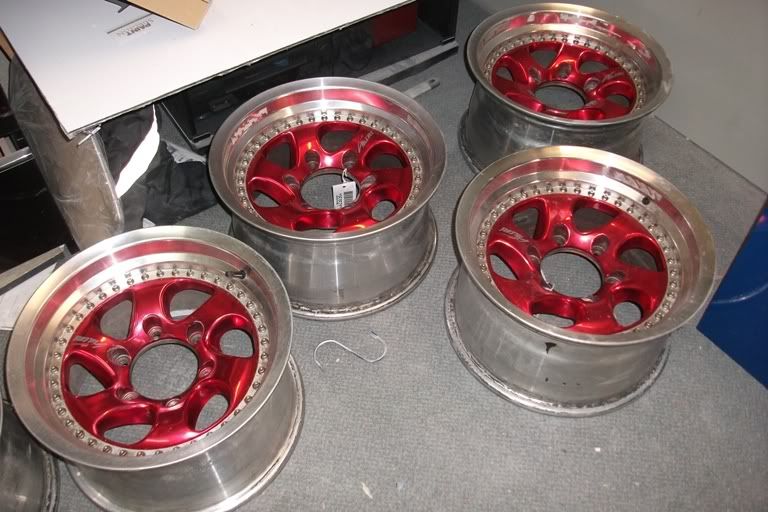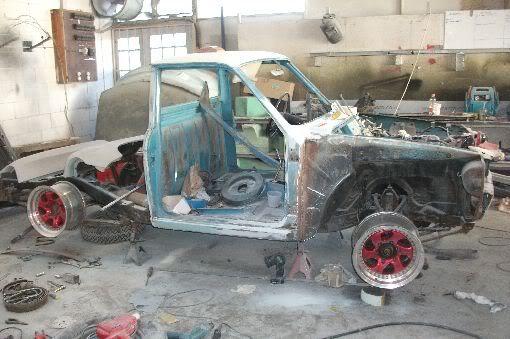 I now have some direzza's on there 205/50/15
I havent done the bay as yet but will get onto that at some stage, my fab guy on sat offered me a engine swap of my choice for panel and paint on his car and it is very tempting.
The cab has been painted and nearly finished fitting it up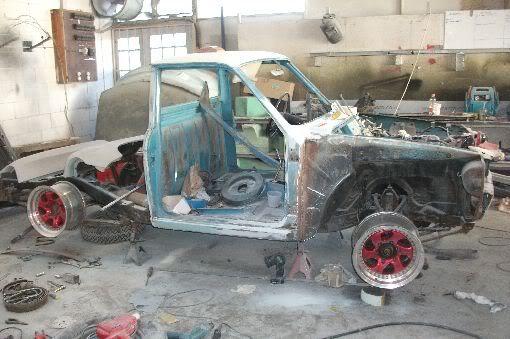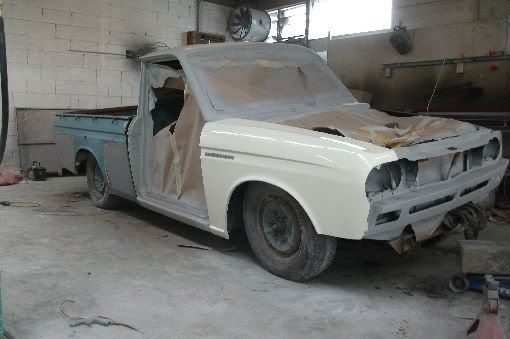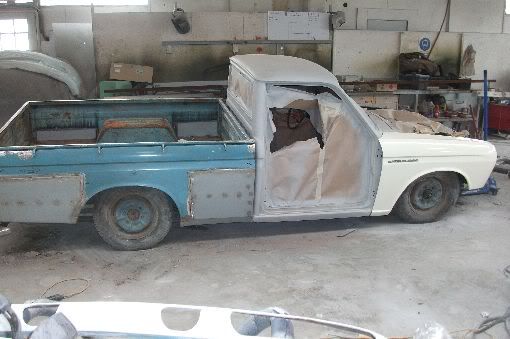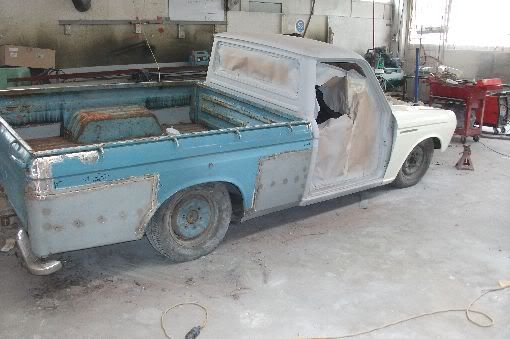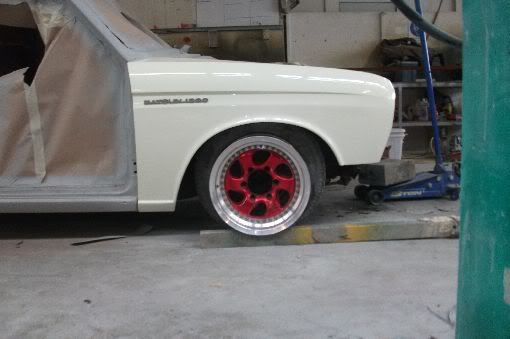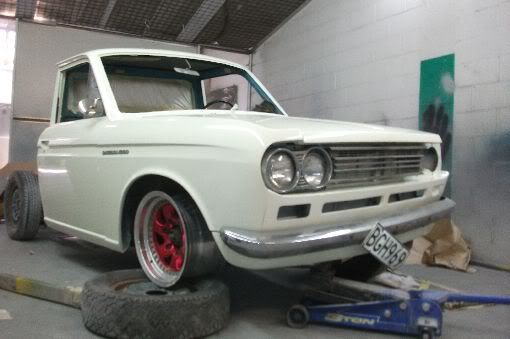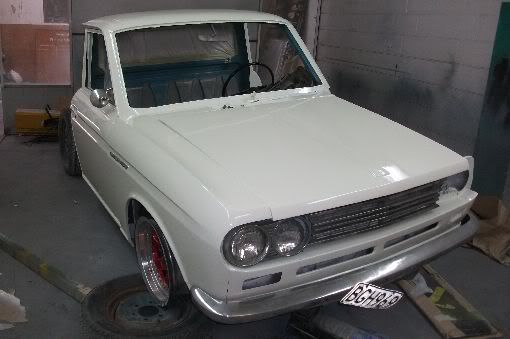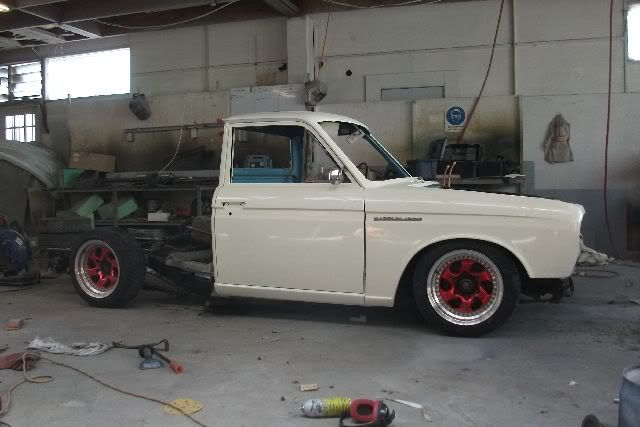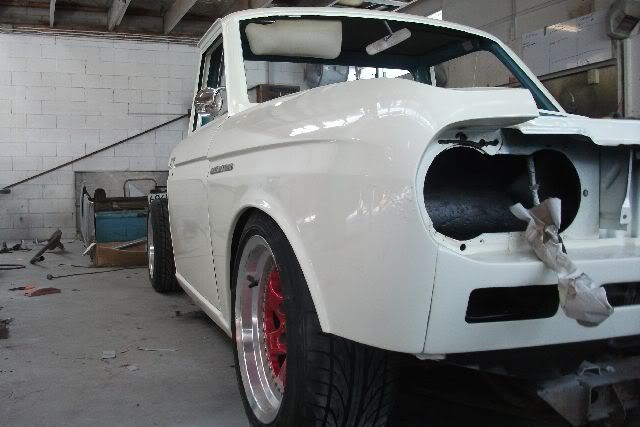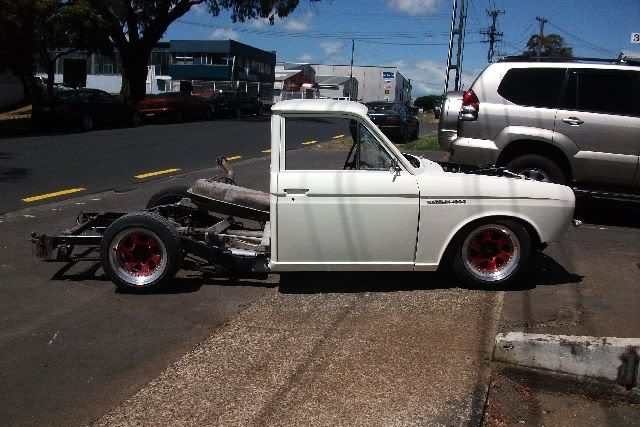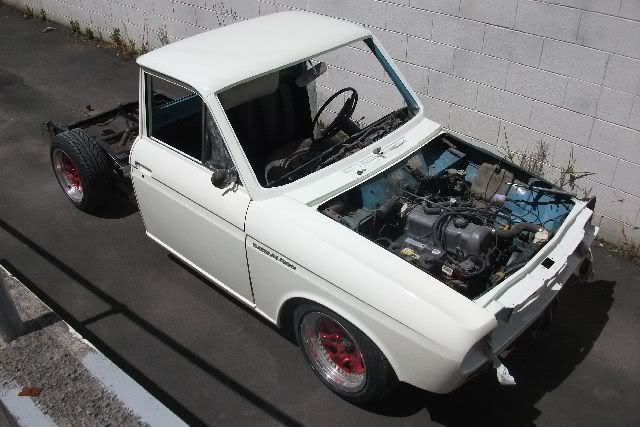 I want the truck to be as quiet and comfy to drive as it can be as i hate rattly cars and road noise.
Have undersealed the cab thick as to try get rid of noise and dynamat the inside floor and firewall.
Supprisingly enough autodec had a mould for carpet for the truck so i ordered that along with underlay and extra carpet so i could run it up behind the seat to keep noise down also.
Next on the list was the seat but i hadnt put that in my budget so opted for a oldschool seat cover and am living the look.
Dash top is in pretty good nick just a little biit of lifting aound the vents i will glue back at some stage.
For the door cards i just cut out some new wood and recovered them in a mid grey colour. Managed to retain the factory clips so they go on pretty good.
All in all inside the cab is nearly done and i just need to carpet the firewall and reblack the metal dash.
Pics in the next few days.
I have reindexed the torsions and had the leaf springs flattened 5inches but i think they are about 6.
Its diff on chassis at the rear without a notch so will raise it for now as i have 2inch blocks in there aswell.
I found some chrome mirrors and chucked them on the doors, I had thought about fender mirrors but i see them unusable and im after a practical work hack. So they went on the doors next to the front 1/4 glass.
Next was the engine and wiring, Needed to make sure everything works properly.
All the wiring was up the S&%$ so i found the wiring diagram online and have slowly been working through it, i have to get a flasher relay and horn and all the wiring is sorted.
Motor as i said earlier wasnt firing on all 4 and i just got into it, replced rotor, points, condenser, contacts, plugs and leads after i found it was only running on two.
after messing with the timing and carb for a few days on hot and cold i have got it starting first pop with one pump of the pedal withing about 3sec first thing in the morn, With a proper tune on the carb by someone that knows what they are doing would make it prefect.
Things i have left to do are.
Tray has just been welded up and patched and needs a skim ( These things have ripples the whole way along that are spotwelds, looks like strop hooks have dented it but its not)
Fold up a new tailgate, (maybe air brush the datun back into it)
Bolt up front guards
Alarm and central locking
Horn
Flasher for inicators
Interior light and eng bay light.
Fluid change.
Rear shoes (one drum is siezed onto the hub, any ideas how to get it off would be appreciated)
pull the blocks out
Shocks
Wind front torsions up
degrease diff and sus parts so i can paint them.
tidy up wiring once everything is working properly
int heater and fan.
wiper squirter.
windscreen rubber.
Trying to sort some 40-50% tints as light as i can find just to clean it up a bit.
Stereo and speakers.
Wof and reg after that.
I may take it for a check over this week without the tray to see if there is anything else i need to do over the next week or so.
Hope you enjoyed the big read will get pics up when i get a chance